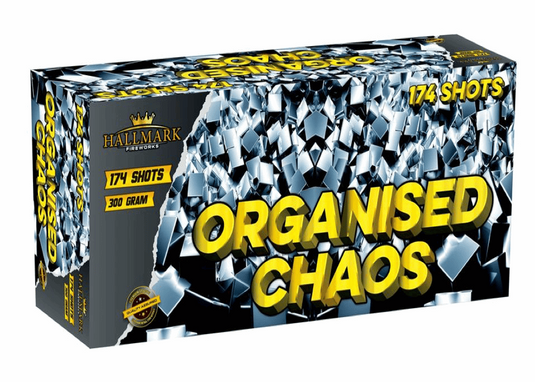 Organised Chaos by Hallmark Fireworks 
Indulge in the golden splendor of Organised Chaos by Hallmark Fireworks! This extraordinary barrage fireworks display features an added touch of elegance with stunning golden palm effects that will elevate your fireworks show to new levels of brilliance.
As the night sky comes alive with a dazzling array of colors and patterns, the golden palms take center stage, casting a warm and radiant glow that adds a touch of opulence to your celebration. The captivating combination of crackling comets, dazzling stars, vibrant strobes, and mesmerizing palms creates a harmonious symphony of pyrotechnic artistry that is sure to leave a lasting impression on your audience.
Experience the thrill of Organised Chaos with Big Show Fireworks! Our explosive displays will light up your night sky like never before!
Get ready for a breathtaking spectacle of color, sound, and excitement! Our expertly Organised Chaos fireworks shows are guaranteed to leave you in awe. Don't settle for the ordinary - choose Big Show Fireworks for a truly unforgettable experience. With our attention to detail and commitment to safety, you can sit back, relax, and enjoy the show knowing that you're in good hands.