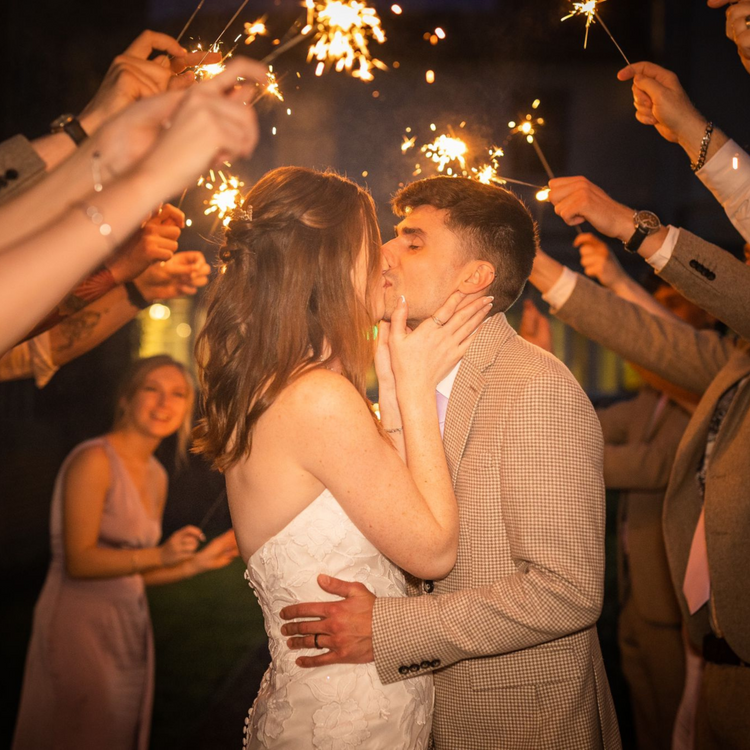 When you think of a wedding do you think fireworks? If not, after reading this you may think again! 
Firework displays have grown in popularity and gained momentum in recent years.  November 5th was always the busiest period of the year for anyone in the firework industry but of recent it seems all about weddings.  Whether it's an evening display, sparklers for guests or smoke flares for the bride and groom to include in their perfect wedding photos.  We have seen a huge increase in sales and enquiries for bespoke packages.
Why choose a firework display?
When a firework display is included in your wedding reception or evening party it can provide an extra magical moment.  Fireworks scream sophistication and romance, a beautiful addition to your perfect day.
Firework displays can be enjoyed by all your guests and are perfect in creating those memorable moments. Displays can be tailored to specific colours to match your wedding theme and a specific time to ensure everything flows perfectly.  Fireworks are used as a celebration of your marriage with everyone coming together to enjoy. The beautiful array of colours and sounds unite families and friends an experience of togetherness, sharing that specific moment.
Why should you choose sparklers?
We touched on this in our previous blog about sparklers and if you haven't read it, it is worth looking at. Sparklers are crowd pleasers and can make all your guest feel included.  Sparklers make a great addition when photographing your big day. As the sparklers come alive, they shine brightly for your guests and those all-important photos. 
How much do Sparklers cost?
At the Big Show Fireworks, we offer some amazing deals, 3 Packs of Sparklers for £5.
We also offer bulk buy options please view our Sparklers page to see all the options. Look at how amazing the sparklers look in the photo below.
 Why choose Smoke Flares?
Smoke Flares are one of the biggest features this year for weddings.  Brides and grooms across the country are now choosing to capture photographs on their big day whilst holding an amazing array of colours, adding an extra layer of detail and sophistication.  We have seen not only an increase in the use of these for weddings but customers returning a year or two later for their baby gender reveal parties.  It's a beautiful flow of life.  Couples are choosing to capture those milestone moments at all stages with Smoke Flares.
The affordability is a huge plus and the product is very easy to use, when you know how.  We welcome any enquiries and can provide the best 'hints and tips' when using them.  The quality of the products is important and at the Big Show Fireworks we can provide this. Quality and knowledge are key with this product! 
The sky is the limit… but at what cost?
Here at the Big Show fireworks, we offer a free no obligation consultation and quotation on all fireworks products and services, to make your wedding day and evening as special as possible. With our expert knowledge, the initial enquiry can help decide if a display is for you.  We would discuss logistics and surroundings to ensure your wedding magical moment is as perfect as possible. We are transparent with our pricing as we know weddings can become costly.
We offer a complete display service for all budgets, starting from as little as £200.00 ranging up to £5,000. Please give us a call on 0800 00 25 909 to discuss your requirements and we can tailor a package specific to your needs. 
Are all things fireworks for weddings? absolutely!
Firework product recommendations for Weddings
Andy from the Big Show Fireworks, (in association Slough Firework Factory and Reading Firework Factory) has a huge amount of experience when curating Wedding Firework Displays and he suggests.
Sparklers should be ordered for all guests and distributed in the evening by one of the best men.
Once distributed, gather your wedding party to stand in line, creating a catwalk, light the sparklers whilst the Bride and Groom showcase themselves along the array of guests, whilst the beautiful iridescent sparks shine bright in the dimly lit light.  The photos will be amazing.  Our recommended Wedding Photographer, Dan Budwal Photography thinks so too. 
Look at one of his fabulous photo's showcasing how special and effective this is.
13 Inch Firework Fountains
Andy from the Big Show Fireworks, (in association Slough Firework Factory and Reading Firework Factory) next suggestion would be to include the amazing 13-inch large Firework Fountain at the end of the Sparkler catwalk.  Your party should be led outside and gather. The anticipation will provide your guests with the element of surprise, as once lit the 13-inch Firework Fountain creates the most magical, romantic, and beautiful display, with yet another spectacular back drop for more amazing photos.  This product is highly recommended not only for its Firework wow factor also for its affordability.
The 13 Inch Firework Fountains retail at £14.99. – Please feel free to contact us for more information 
Chain Reaction by Hallmark Fireworks
Following on from the 13-inch Firework Fountain, Andy from the Big Show Fireworks, (in association Slough Firework Factory and Reading Firework Factory) next recommendation would be the Chain Reaction by Hallmark Fireworks, as this is one of the best professional fireworks on the market.  Chain Reaction by name and Chain Reaction by effect.  This amazing Firework lasts for a long lasting 4 minutes in total once lit.  We guarantee your guests will watch in amazement. 
We have included the video below
We welcome all enquiries on the fabulous Chain Reaction by Hallmark Fireworks where pricing can be discussed.
Watch all Videos on our Youtube page 
Wedding Firework FAQ
How long should a Wedding firework Display last?
The duration of a Wedding Firework Display can vary depending on personal preference and budget.  The typical suggestion for Wedding Firework Displays should be shorter than a typical Firework Display.  We should remember the beautiful bride and the couple declaring their love by marriage is the main feature.  A Wedding Firework Display is to create a memory to be enjoyed by all, creating a feeling of togetherness with a living in the moment feel and to help as an addition when creating the all-important photos. Our recommendation is to keep a Wedding display between 5 and 10 minutes max.
Are Wedding Firework Displays cancelled if it rains?
Here at the Big Show Fireworks, we encourage positivity with regards to the weather.  We do advise and it is important to remember if the Firework fuse does not get wet, the Fireworks are still to be able to be fired in the rain. 
What is the best time for Fireworks at the Wedding Reception / Evening Party?
The main factor to consider when deciding what time, you would like your Wedding Firework Display ultimately is what time sunsets.  For Summer Weddings we recommend any time after 22:00, midnight is also a popular choice of time.  For Winter Weddings, as the sun sets much earlier, we recommend after 19:00.
What to ask the venue before purchasing Wedding Fireworks or getting a professional Wedding Firework Display?
We recommend speaking to your Wedding Reception venue in the first instance to ensure Fireworks and Firework Displays are permitted.  Insurance and Public Liability Insurance are required.  Should your wedding be at home or on private land this allows more flexibility.   Safety should always be the number one priority.  As we are professionals, we can liaise with your venue to ensure all eventualities are taken care of, this can be helpful as we know how busy and time consuming organising a wedding can be.