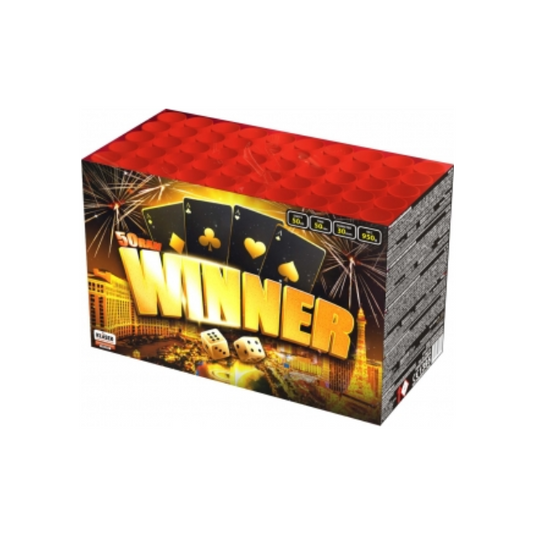 Winner Klasek Pyrotechnics
Winner by Klasek Pyrotechnics 50-Shot Barrage Cake: Where Quality Meets Spectacular Pyrotechnic Brilliance!
Are you ready to elevate your fireworks display to a whole new level of awe-inspiring beauty and excitement? Look no further than the Winner by Klasek Pyrotechnics 50-Shot Barrage Cake, a true masterpiece in the world of pyrotechnics!
Unparalleled Quality: Klasek Pyrotechnics is renowned for its commitment to crafting fireworks of the highest quality. The Winner is no exception. Each component is meticulously designed and manufactured to ensure precision, safety, and unparalleled performance. When you choose Winner, you're choosing excellence.
Spectacular Shots: Prepare to be dazzled by 50 high-quality shots that light up the night sky with stunning brilliance. Whether you're celebrating a special occasion or just want to make an ordinary evening unforgettable, Winner delivers an awe-inspiring display that will leave your audience in absolute wonder.
Stunning Colours: The Winner Barrage Cake boasts a vivid spectrum of colours that will paint the night sky with a mesmerizing palette. From vibrant reds and blues to shimmering golds and greens, every shot bursts forth in a kaleidoscope of colors that will leave spectators breathless.
Mesmerizing Effects: What sets Winner apart are its mesmerizing effects that add a touch of magic to your celebrations. Watch as cascading willows, crackling palms, and glittering stars light up the heavens, creating a visual symphony that captivates the senses.
Perfect for Any Occasion: Whether it's New Year's Eve, a birthday bash, a wedding reception, or any event worth celebrating, Winner's 50-shot barrage cake is the ultimate choice to elevate the festivities and create lasting memories.
Don't settle for ordinary fireworks when you can have the extraordinary with Winner by Klasek Pyrotechnics. Experience the thrill, beauty, and quality that only the best in the industry can provide. Make every moment unforgettable with Winner. Get yours today and be the true champion of pyrotechnic displays!