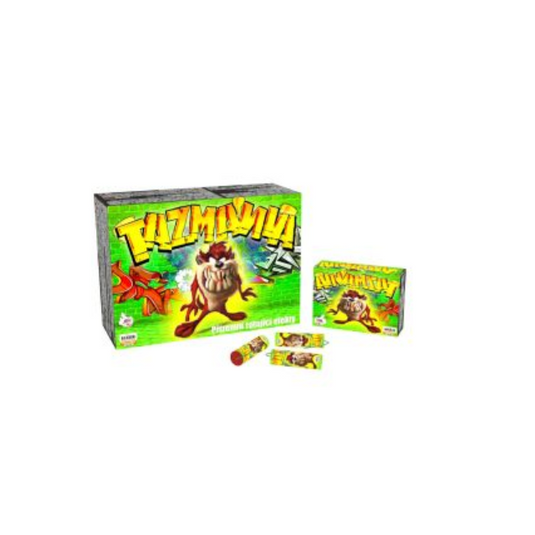 Tazmánia Ground Spinner by Klasek Pyrotechnics
Get Ready to Unleash the Tazmánia Ground Spinner by Klasek Pyrotechnics - Wild Fun Now Legal!
Banned no more! The Tazmánia ground spinner is back, and it's bringing a whirlwind of excitement straight to your doorstep, thanks to changes in CE regulations. Brace yourself for a bold burst of novelty and fun like never before.
Key Features:
🔥 A Fiery Red Daredevil: The Tazmánia ground spinner is as fiery as its namesake, spinning in a vibrant red hue with a crackling finish that's sure to ignite the fun factor.
Safety First:
🚀 Category F1 Firework: Classified as a Category F1 firework, the Tazmánia ground spinner demands a minimum safety distance of just 1 meter. But remember, it's all about outdoor fun!
🌆 Outdoor Excitement: To make the most of this whirlwind of fun, head outdoors! Choose a solid, flat surface like your patio or driveway. Grass and uneven terrain need not apply – Tazmánia prefers a smooth stage.
⛔ Legal Disclaimer: While we're all about fun, let's keep it responsible. It's against the law to let fireworks off in public places, including roadways or paths. Safety and legality go hand in hand.
Spin into the Action:
Tazmánia is not just a ground spinner; it's a statement. It's a declaration that fun knows no bounds, and with the changes in regulations, the excitement is back with a bang – or should we say, a spin!
Tazmánia Awaits:
Are you ready to embrace the boldness, the novelty, and the sheer fun of Tazmánia? It's time to rediscover the thrill of outdoor fireworks and make memories that will last a lifetime.
Add a Dash of Boldness to Your Celebration:
Get ready for a whirlwind of fun with Tazmánia by Klasek Pyrotechnics. It's legal, it's bold, and it's waiting for you to unleash its fiery spin. Don't miss out on the excitement – grab yours today!
Spin into the Adventure with Tazmánia by Klasek Pyrotechnics!