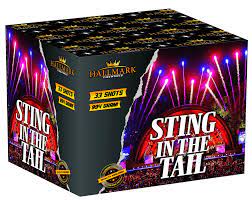 Sting in the Tail Hallmark Fireworks
Introducing Sting in the Tail Firework by Hallmark Fireworks. This firework is sure to impress with its beautiful strobe effects and fanned finale. With a duration of 45 seconds, it's great value for money. Don't miss out on this cracking firework and add it to your next display. If you don't believe us, watch the video of Sting in the Tail by Hallmark Fireworks and see for yourself the beauty of this firework.
Sting in the Tail firework - a dazzling display of explosive entertainment that's sure to light up your night sky! With its stunning array of colors, loud bangs, and beautiful effects, this firework is the perfect way to make your next celebration truly unforgettable.
Each Sting in the Tail firework features a unique combination of bursts, booms, and crackles, creating a symphony of sound and light that's simply breathtaking. And with a duration of several minutes, you and your guests will have plenty of time to enjoy the show.
But that's not all - the Sting in the Tail firework is also designed with safety in mind. With a recommended safety distance of 25 meters, you can rest assured that everyone will be able to enjoy the display without any risk of harm. And with its high-quality construction, you can trust that this firework is built to last.
So whether you're planning a backyard barbecue, a birthday bash, or a New Year's Eve extravaganza, the Sting in the Tail firework is the perfect way to add some excitement and spark to your event. Order yours today and get ready to light up the night sky like never before!