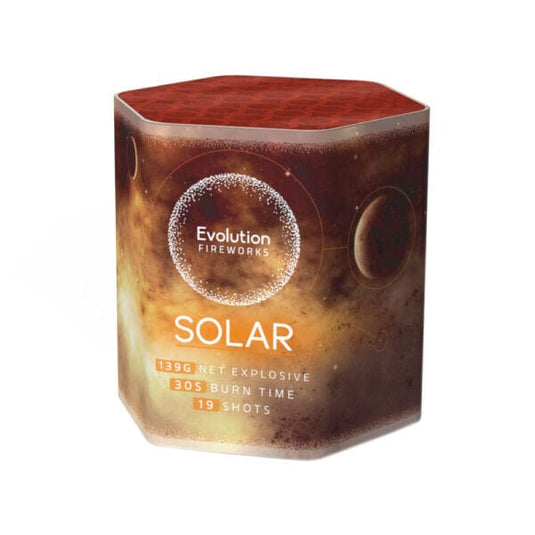 Solar Firework 19 Shots
Looking to light up the night sky with a stunning display? Solar Firework by Evolution Fireworks is a perfect choice! With 19 shots of beautiful thick white comet tails leading to bursts of white glitter above, this firework is guaranteed to impress. The F2 category display has a distance of 8 meters, a duration of 30 seconds, and a noise level of 2.
It reaches heights of 15 meters and has a firing pattern of straight. The 20mm tube size and 1.4 hazard class make it safe and easy to use, while the 139g powder weight ensures an impressive show. Don't miss out on the opportunity to brighten up your event with Solar Firework by Evolution Fireworks.

Here are the main features of the Solar firework display:
19 shots of white comet tails and bursts of white glitter
F2 category display
Duration of 30 seconds
Noise level of 2
Height of 15 meters
Straight firing pattern
20mm tube size
1.4 hazard class
139g powder weight