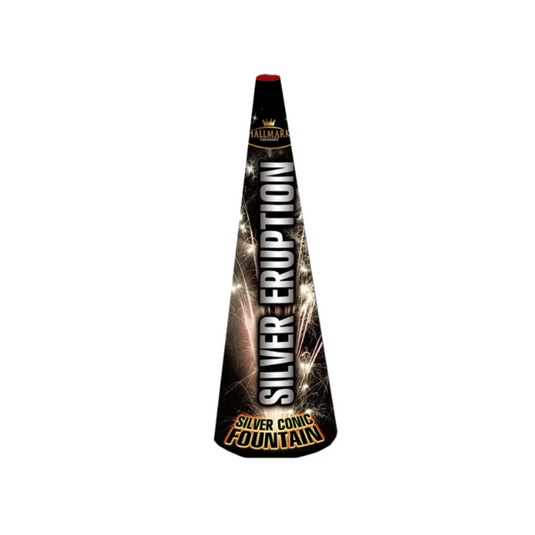 Silver Eruption Fountain
13 Inch
 Silver Eruption by Hallmark - A Dazzling Display of Silver Brilliance!
🌟 Illuminate your celebrations like never before with Silver Eruption, the ultimate silver fountain that promises 90 seconds of pure pyrotechnic magic!
✨ Stunning Silver Fountain: Picture a cascade of shimmering silver sparks, dancing and twirling in the night sky. Silver Eruption is not just a firework; it's a mesmerizing spectacle, a silver eruption of radiance that will leave you and your guests in awe.
🕒 60 Seconds of Pure Delight: With a generous 60-second duration, Silver Eruption ensures an extended and enchanting experience. Let the Silver cascade paint the sky and create unforgettable moments that will last well beyond the grand finale.
🎉 Perfect for Every Celebration: Whether it's a wedding, a milestone birthday, a New Year's Eve bash, or any special occasion, Silver Eruption is the ideal addition to your festivities. Elevate the atmosphere and create a captivating backdrop for your event.
🌌 Hallmark Quality: Trust in the Hallmark name, synonymous with quality and excellence. Silver Eruption is crafted to the highest standards, ensuring a safe and spectacular display every time.
💥 Be the Star of the Night: Make your celebration truly memorable with Silver Eruption. It's not just a firework; it's the centerpiece of your event, a beacon of silver brilliance that will have everyone talking.
Experience the magic, the elegance, and the splendor of Silver Eruption by Hallmark. Light up the night, make memories that shine, and let the Silver cascade take your celebrations to new heights.
Don't miss out on the opportunity to add a touch of Silver  to your next event. Elevate your festivities with Silver Eruption Fountain and let the silver glow create moments that will be cherished forever. 🌟🎇💫