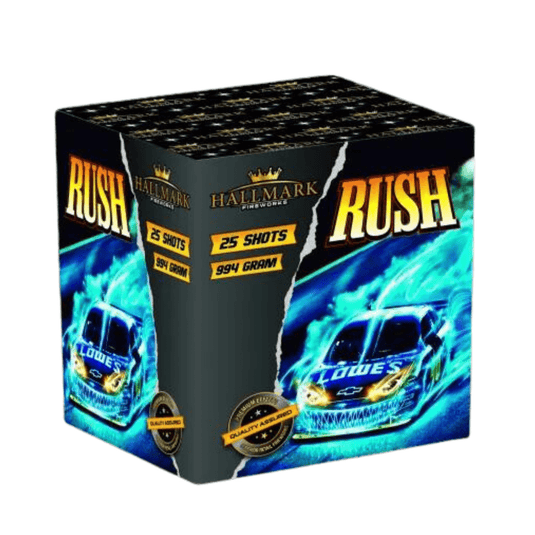 Rush by Hallmark Fireworks
Looking for an explosive fireworks display that's perfect for any celebration? Look no further than Rush 25 Shots - the hallmark of fireworks barrages! With 25 shots fired straight into the sky, this firework barrage is sure to leave your audience spellbound.
At a safe distance of just 8 meters, you can enjoy the stunning display up close without compromising on safety. With a duration of 15 seconds and a noise level of 3/5, Rush 25 Shots is guaranteed to light up your event in a spectacular fashion. Its firing pattern is straight and it has a height of 25 meters, providing a mesmerizing display that's perfect for any celebration.
This firework barrage is classified as Hazard Class 1.4G and its tube size is 25mm. With a powder weight of 301g, Rush 25 Shots packs a powerful punch that's sure to impress.
What's more, Rush 25 Shots is the cheapest fireworks barrage in the UK, priced at only £36.99. And with our fastest delivery, you can get your hands on this amazing product in no time.
At Big Show Fireworks Company, we are committed to providing you with the best fireworks display. That's why we are the number one fireworks shop in the UK. So why wait? Order Rush 25 Shots today and get ready to light up the sky! With a total weight of 994 grams, this fireworks barrage is sure to make your celebration one to remember.