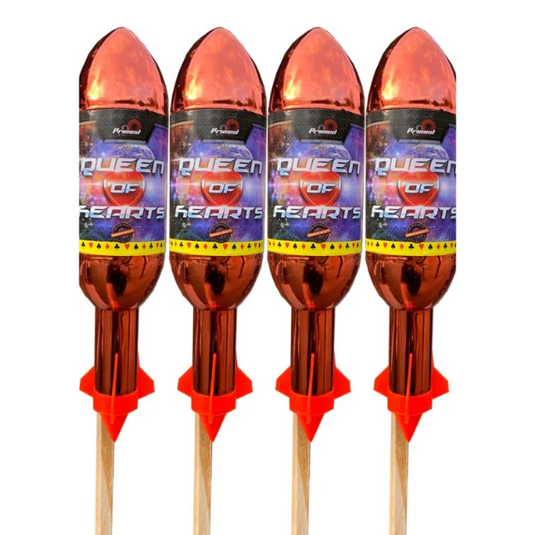 Queen of Hearts Primed Pyrotechnics
4 Pack of Rockets
Queen of Hearts Love Heart Rockets by Primed Pyrotechnics - Ignite Love's Fire in the Sky!
Expressing your love just got more spectacular with the Queen of Hearts Love Heart Rockets by Primed Pyrotechnics. These extraordinary fireworks, classified as category F3 and 1.3G, are the perfect way to make your romantic celebrations truly unforgettable. Whether it's an anniversary, Valentine's Day, or any special moment of love, let your emotions take flight with these mesmerizing rockets.
Key Features:
💖 Enchanting Heart Shapes: Each box contains four high-quality rockets, expertly crafted to paint the sky with enchanting heart shapes, symbolizing your deep affection and passion.
💥 Explosive Elegance: With an impressive explosive content of 668 grams and dimensions of 162x20x12cm, these Love Heart Rockets deliver a breathtaking display that will captivate your loved one and leave them spellbound.
🌟 Grand Declarations: Designed for outdoor events and larger displays, these powerful 1.3G fireworks ensure that your declaration of love is visible for all to see, making it a grand and unforgettable moment.
🎆 Multiple Opportunities: Each pack includes four Queen of Hearts rockets, giving you multiple opportunities to express your love in the most remarkable way. Whether it's a single display or a series of breathtaking moments, you're in control of the magic.
Elevate Your Romantic Celebrations:
Create an extraordinary atmosphere of love and devotion by incorporating the Queen of Hearts Love Heart Rockets into your special occasions. These fireworks are not just an expression of love; they are an unforgettable experience that will etch beautiful memories into your hearts.
Order Yours Today:
Don't miss the chance to make magical memories with your special someone. Order the Queen of Hearts Love Heart Rockets by Primed Pyrotechnics today and let your love soar to new heights. Make every moment a celebration of love, illuminated by the fiery passion of the Queen of Hearts!