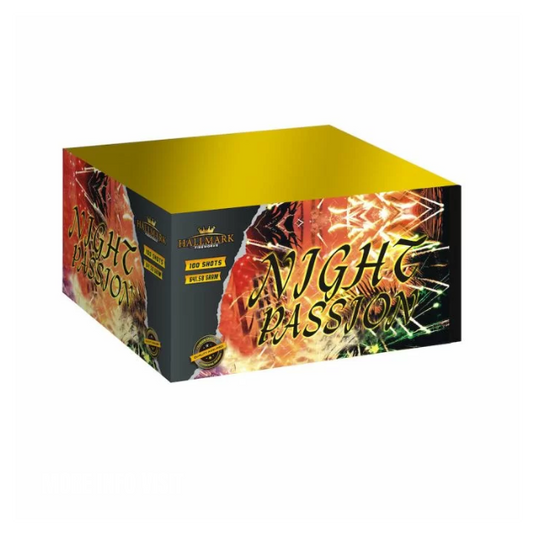 Night Passion Hallmark Firework
"Night Passion" by Hallmark Fireworks
Set the Night Ablaze with Pure Pyrotechnic Passion! 
Prepare for an unforgettable fireworks affair that will leave you breathless and begging for more! "Night Passion" by Hallmark Fireworks is a pyrotechnic masterpiece that's as bold and exciting as your wildest dreams.
🌟 What's in the Passionate Mix? 🌟
🌟 Bursts of Red and Silver Strobe: The night sky ignites with passionate reds and electrifying silver strobes that will set your heart racing.

🌟Purple Stars and Green Strobe: Get lost in a mesmerizing dance of royal purples and vibrant green strobes that paint the canvas of the night.

🌟 A V-Firing Section of Golden Bursts: Experience a grand V-shaped spectacle of golden bursts that light up the sky like pure treasure.

🌟 Blue Stars to Crackle: The heavens dazzle with sapphire blues that transition into an explosive crackling symphony.

🌟 A W-Section of Crackling Comets: Marvel at crackling comets blazing left and right, surrounding a magnificent center of golden bursts.

🌟 A Sweeping of Green Strobe and Red to Crackle: A sweeping motion of green strobes and fiery red crackles adds drama and intensity.

🌟 The Grand Finale: A Volley of Silver Ti Salutes: "Night Passion" culminates in a breathtaking volley of silver titanium salutes that will leave you in awe.
Could they fit any more into this pyrotechnic extravaganza? "Night Passion" pushes the limits and delivers a show that's as passionate and intense as your love for fireworks.
🚀 Don't miss your chance to light up the night with "Night Passion" by Hallmark Fireworks. It's a passionate pyrotechnic affair that will keep you on the edge of your seat until the very last salute! 🚀🌠