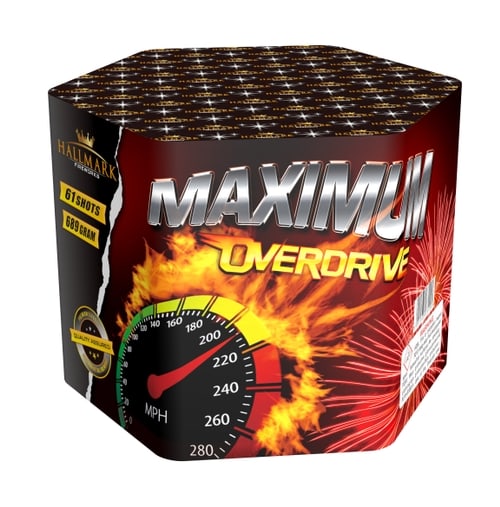 Maximum Overdrive by Hallmark Fireworks
The Hallmark Maximum Overdrive Firework is a 61-shot barrage that is sure to impress with its bright and vibrant colors. This high-quality firework, produced by Hallmark Fireworks, has a duration of approximately 45 seconds and is sure to be the highlight of any celebration. The Maximum Overdrive firework's long-lasting display is sure to leave a lasting impression on all who see it.
With a loud noise level and a 25mm tube size, this Maximum Overdrive Firework is perfect for a grand finale or any special occasion. Its straight shot pattern and 1.4g UN 0336 class make it a hit with spectators.
Keep your safety in mind with the F3 category and 25m safety distance. The NEC powder weight for this firework is 689g. Don't miss out on the unforgettable experience of the Hallmark Maximum Overdrive firework.