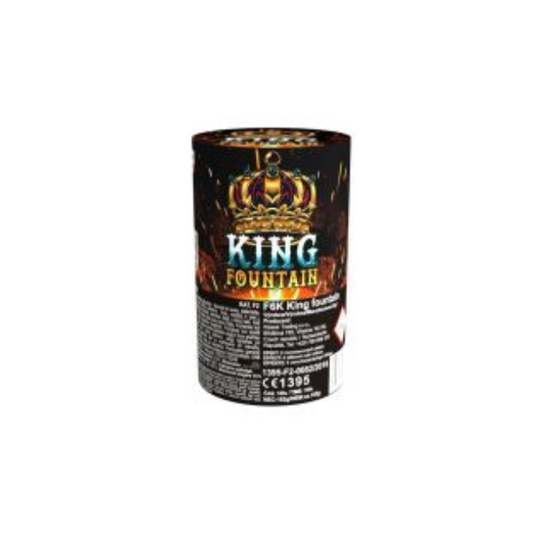 King Fountain Klasek Pyrotechnic
King Fountain by Klasek Pyrotechnics: Reign Supreme with the Finest Fountain in the UK!
Are you in search of the ultimate fountain firework that combines unparalleled quality with a show-stopping performance? Look no further than the King Fountain by Klasek Pyrotechnics - your gateway to a mesmerizing spectacle of light and color that will leave your audience in awe.
Quality from Start to Finish:
Klasek Pyrotechnics, take pride in delivering uncompromising quality. The King Fountain is no exception. From the moment you ignite it to the grand finale, you'll experience a level of craftsmanship that sets it apart as the best in the UK.
A Grand Display:
Prepare for a truly majestic experience as the King Fountain takes center stage. Lasting for an impressive one and a half minutes, it offers an extended and enchanting display that sets it apart from the rest.
Six Mesmerizing Effects:
The King Fountain is not your ordinary firework. It's a multi-faceted masterpiece that produces not one, not two, but six different mesmerizing effects. Watch in amazement as it weaves a tapestry of vibrant colors and captivating patterns across the night sky, leaving a lasting impression on all who behold it.
Create Unforgettable Moments:
Whether you're celebrating a special occasion, hosting a grand event, or simply want to add a touch of magic to your night, the King Fountain by Klasek Pyrotechnics promises to deliver unforgettable moments that will be cherished by all.
Experience the Majesty of the King Fountain:
Elevate your celebration to new heights with the King Fountain - the epitome of excellence in fountain fireworks. Klasek Pyrotechnics invites you to experience the magic, brilliance, and grandeur of the King Fountain. Don't settle for less; choose the best and let the King Fountain reign supreme at your next event!