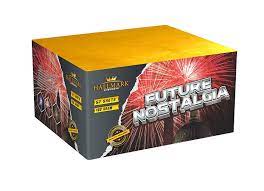 Future Nostalgia By Hallmark Fireworks
Experience the thrill of the future with a nostalgic twist with Future Nostalgia Firework! With 164 shots and a duration of 95 seconds, this high-quality pyrotechnic is designed to create a dazzling display of colors and effects that will leave you and your guests in awe.
With a noise level of 5 out of 5, this firework is perfect for those who want to make a big impact at their next event. To ensure the safety of your guests, we recommend a minimum safety distance of 25 meters. So don't wait any longer.
Future Nostalgia Firework is the perfect addition to any celebration, from weddings and graduations to Fourth of July parties and New Year's Eve events. This firework is designed to create a stunning visual display that will transport you and your guests to another time and place.
With its unique combination of classic and modern elements, Future Nostalgia Firework is sure to be the talk of the town. So don't settle for an ordinary fireworks display - light up the sky with Future Nostalgia Firework and create memories that will last a lifetime!
order Future Nostalgia Firework today and get ready to experience a truly unforgettable fireworks display!