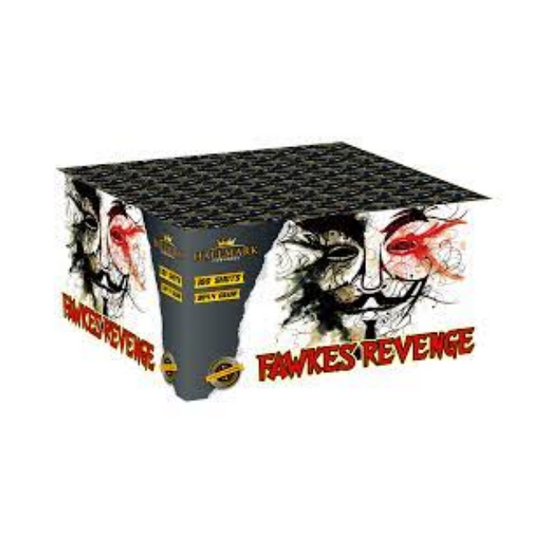 Fawkes

 Revenge Hallmark Firework
Prepare for an explosive night of fun with Fawkes Revenge by Hallmark Fireworks! This dazzling masterpiece boasts 100 mind-blowing 25mm shots that are sure to steal the spotlight in any firework display.
As the night sky darkens, watch in awe as Fawkes Revenge kicks off with a burst of vertical golden brocades and shimmering strobes, adding a mesmerizing splash of colors to the canvas of the night. But that's just the beginning!
The real magic happens when it transforms into a fan of brilliant brocades and electrifying crackles, painting the sky with its breathtaking artistry. Then, brace yourself for the jaw-dropping V-firing crackling comets, interspersed with dazzling colored stars that twinkle like celestial gems.
But that's not all! Fawkes Revenge saves the best for last with an exhilarating flurry of shots fired in pairs, creating an unforgettable firing sequence that will leave your audience on the edge of their seats. And when it reaches its grand finale, be prepared for the thunderous crescendo of loud reports that will echo in your memory long after the display is over.
Fawkes Revenge by Hallmark Fireworks is not just a firework; it's a symphony of lights, sounds, and pure excitement. Get ready to light up the night and make your next event truly unforgettable with this sensational barrage of fireworks. Don't miss your chance to add some magic to the skies with Fawkes Revenge!