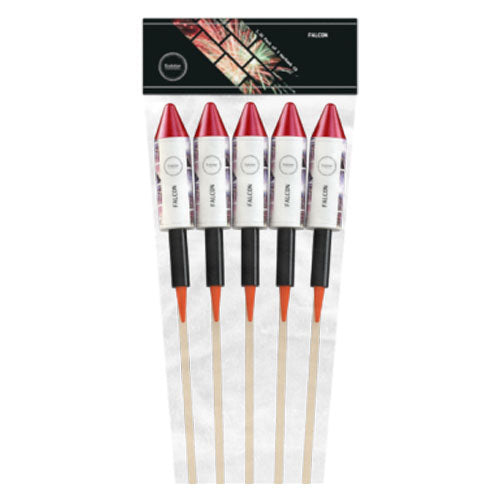 Falcon Rockets By Evolution Fireworks
The Hallmark FALCON Rockets Fireworks are a high-flying, awe-inspiring addition to any fireworks display. These powerful rockets reach heights of up to 200 feet, bursting into a stunning array of colors and patterns that will leave your audience speechless. Each pack contains 5 rockets, giving you plenty of firepowers to create a truly memorable show.
Made by the trusted and respected brand Hallmark, you can be confident in the quality and performance of these rockets. Whether you're hosting a backyard party or a large public event, the FALCON Rockets Fireworks will surely be a hit with audiences of all ages. Add them to your cart today and take your fireworks display to new heights.
Get High Quality Falcon Rockets Fireworks
Get ready to light up the night sky with Falcon Rockets Fireworks! These high-quality pyrotechnics are perfect for any celebration or special event. Whether you're planning a Fourth of July party or a New Year's Eve bash, Falcon Rockets Fireworks will make your event unforgettable.
We offer a wide range of options, from small and budget-friendly packs to large and impressive displays that will leave your guests in awe. Browse our selection of Falcon Rockets Fireworks for sale and order online today for fast and convenient delivery straight to your doorstep. Don't wait to create a spectacular show with Falcon Rockets Fireworks!