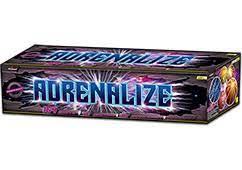 Adrenalize Compound Firework cake
Are you ready for the ultimate firework experience? Look no further than Adrenalized Primed Firework cake. This monster of a display is sure to leave you in awe with its 164 shots of massive bursts reaching over 50 feet wide. 
The Adrenalized Primed Fireworks cake is a must-have for any firework adrenaline junkie. With its stunning array of colors and effects, it's no wonder why Primed is known for delivering some of the best fireworks on the market. From straight firing shots to triple volleys of V firing, W firing, and a sweeping Z firing finale, the Adrenalized Primed Firework cake is an actual WOW moment. 
Don't miss out on this fantastic firework display. Order your Adrenalized Primed Firework cakes today and get ready to be blown away!