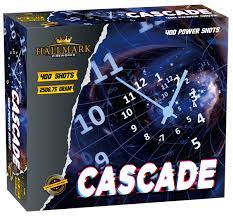 Cascade Hallmark Fireworks
Cascade Compound firework: This Hallmark Firework is a compound firework packed with 400 shots and practically every effect in the book. This Cascade Firework is sure to be a hit with audiences and is perfect for any celebration, including New Year's Eve parties. 
Hallmark Firework Cascade has a recommended viewing distance of 25 meters or more and delivers a full 2 minutes of non-stop action. The Cascade Compound firework reaches heights of up to 20 meters and has a mixed firing pattern, providing a varied and dynamic display.
In terms of safety, Hallmark Firework Cascade is made with 2506.75g of powder and has a hazard class of 1.4G. It also has a tube size of 20mm, making it easy to handle and set up. 
Overall, Cascade Compound firework 400 Shots is a spectacular and unforgettable firework. It's perfect for any celebration and is sure to create a memorable experience.