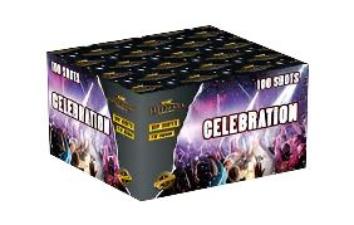 Celebration by Hallmark Fireworks
A Stunning Display of Celebration 100 Shots! The Celebration Compound Cake - the ultimate firework for any celebration or special occasion! With 100 Shot Fireworks fired from 20mm tubes, this 100 Shot Fireworks is guaranteed to dazzle and amaze your guests with its spectacular display.
Perfect for birthdays, weddings, anniversaries, or any other special occasion that calls for a stunning firework display, the Celebration Compound Cake is a must-have for any party or event. Whether you're celebrating a milestone birthday, tying the knot with the love of your life, or simply want to add a little extra excitement to your festivities, this 100 Shot Fireworks will not disappoint!
Crafted by Hallmark Fireworks, a trusted name in the industry, the Celebration Compound Cake is made with high-quality materials and designed to provide a safe and memorable experience for everyone. With its impressive display fired from 20mm tubes, this firework will light up the night sky and leave a lasting impression on all who witness its incredible display.
So if you're looking for a show-stopping firework to add some extra sparkle to your next celebration, look no further than the Celebration Compound Cake. Order yours today and get ready to make some unforgettable memories!