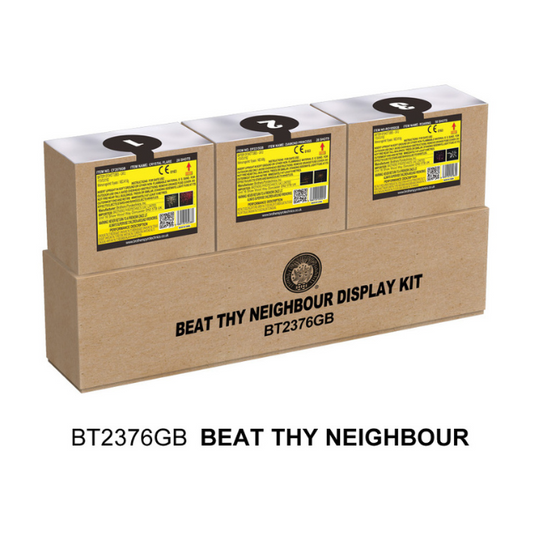 Beat Thy Neighbour Brothers Pyrotechnics 
BEAT THY NEIGHBOUR COMPOUND FIREWORK
Introducing the Crowd-Pleaser: "BEAT THY NEIGHBOUR" - One of our Bestselling Compound Firework!
🎇 Brace yourselves for a display that's as brash, bold, and LOUD as it gets! "BEAT THY NEIGHBOUR" doesn't just talk the talk; it walks the walk, and it's here to do exactly what it says on the box – BEAT 'EM ALL!
🚀 This isn't your average firework; it's three fireworks ingeniously linked together to serve up a hassle-free fireworks show that'll have your neighbors talking for days.
💥 With "BEAT THY NEIGHBOUR," you get it all in one light fuse, ensuring that EVERYONE can join in on the excitement, no matter their age or experience level.
🌟 It's no wonder "BEAT THY NEIGHBOUR" is our ultimate crowd-pleaser and one of the most sought-after compounds we have to offer.
Ready to show your neighborhood who's boss? ORDER NOW and be the star of the night with "BEAT THY NEIGHBOUR"! 🎆🎉