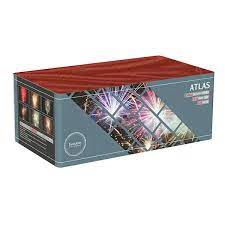 Atlas Firework Evolution Fireworks
Atlas Firework- The Evolution Fireworks Atlas Barrage is an impressive selection of aerial shells that will take your fireworks display to the next level. Each Atlas Firework shell is packed with a variety of colorful and vibrant effects, including golden willows, shimmering chrysanthemums, and crackling palms. The Atlas Fireworks Barrage includes a total of 120 shots ,which are launched one after the other to create a sustained display that will leave your audience in awe.

The Atlas Barrage includes four different types of shells, each with its own unique combination of effects:

💥 

Burn time of 115 seconds

💥 

120 Shots

💥

Gold wave with comet tail, blue star silverfish, white strobe goldfish, red tail to brocade crown.

💥

Red strobe pistil, brocade crown to red with white strobe, brocade crown to green with blue star, brocade crown to blue with white strobe.

💥

Gold tail ti-gold palm blue star, red, green, blue and silver tails to gold floss willow with white, green gold and red strobes.

💥

Silver strobe tail with ti-gold palm to silver crown, brocade tail to brocade crown  ti-gold palm, gold tail to gold floss willow with white strobe, silver strobe tail to    ti-gold palm to purple, brocade tail gold strobe willow white strobe, silver strobe tail to ti-gold palm to silver crown with crackling.
The Atlas
Firework
 Barrage is manufactured by Evolution Fireworks and has a total powder weight of 1500g. It is suitable for use in both professional and home displays, and is sure to be a highlight of your event. With its high-quality performance and stunning effects, the Evolution Fireworks
Atlas
Barrage is a must-have for any fireworks enthusiast.