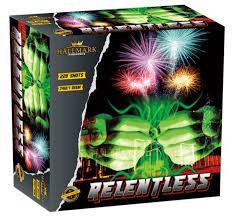 Relentless Hallmark Fireworks
Introducing Hallmark Fireworks 228 shot compound cake, Relentless firework the ultimate firework for fans of explosive, high-energy displays. This cake is packed with 228 shots that deliver a non-stop barrage of colour and sparks. Whether you're celebrating a special occasion or simply enjoying a night with friends and family, Relentless Firework is sure to be a hit.
Relentless firework starts with a stunning fanned gold brocade mine, followed by vivid dahlia blue stars with red strobe. Straight-firing red blink mines rise to reveal dirty gold breaks with blue and red strobe, and this is repeated with green pearls and diamond white blink.
A sweeping fan of whitetails leads to white titanium salutes, which echo across the night sky. Fizzy, crackling mines rise to golden spiders, followed by a series of dark, dirty gold fizzing stars intertwined with red, blue, and green pearls.
The pace picks up with red blink bouquets and dirty gold breaks with blue and red before z-firing sections sweep the sky with red blink mines, silver ti-salutes, gold brocades with blue and green, white tipped crowns, and more. The finale includes red and white blink stars and a double z-firing volley of gold brocade and ti-salutes.
 A relentless firework is classified as a compound cake, which means it contains multiple smaller fireworks that are designed to work together in a coordinated fashion. This creates a highly dynamic and visually stunning display. The cake has a recommended viewing distance of 25 meters and delivers a full minute of non-stop action.
 Overall, Hallmark Fireworks 228 shot compound cake, Relentless firework is an impressive and unforgettable firework display. Its apt name truly represents the stunning show it puts on.