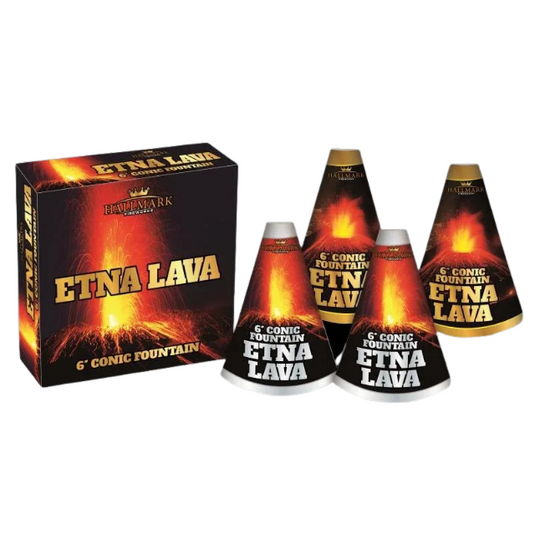 Etna Lava Firework
6 Inch Fountains
Etna Lava 4-Pack: Mesmerizing Cone Fountains Bursting with Colorful Sparks!
🌋 Ignite your celebrations with the Etna Lava 4-Pack, a dazzling collection of 6-inch cone fountains that promise to turn any event into a spectacle of vivid colors and mesmerizing effects!
🎆 Amazing Effects: Get ready to be spellbound as the Etna Lava cone fountains erupt into a stunning display of pyrotechnic artistry. Each cone offers a unique visual treat, with vibrant colors and mesmerizing effects that will captivate your senses.
🌟 Sparkling Silver and Glowing Gold: This pack includes two enchanting silver cone fountains and two radiant gold ones. Whether you're aiming for a classic, elegant ambiance or a touch of opulence, the Etna Lava 4-Pack has you covered with its stunning variety.
🎉 Perfect for Any Occasion: From birthdays and weddings to backyard gatherings and New Year's Eve parties, these cone fountains are the perfect addition to any celebration. Create an unforgettable atmosphere and let the sparks of color light up your special moments.
🪶 Compact and Convenient: The 6-inch size of these cone fountains makes them easy to set up and enjoy in any space. Place them on tables, along pathways, or as part of a larger fireworks display—the possibilities are endless!
Experience the thrill and wonder of Etna Lava 4-Pack cone fountains. Bring your gatherings to life with bursts of colorful sparks and enjoy the enchanting effects that only fireworks can provide.
Don't miss out on the opportunity to add a touch of magic to your next event. Elevate your celebrations with Etna Lava and let the sparks of color create moments that will be cherished forever. 🌋🎇✨
.