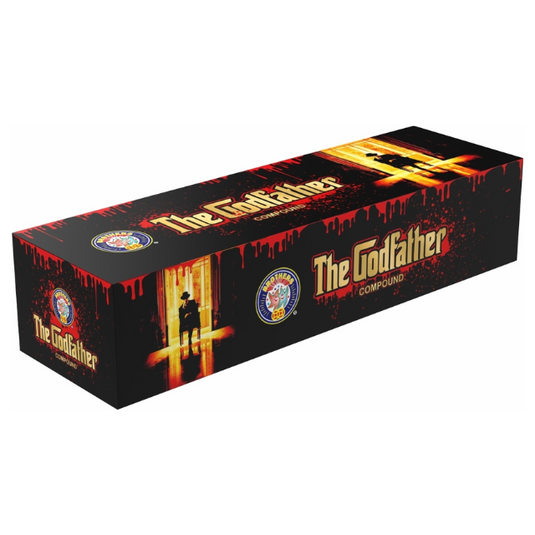 The Godfather Brothers Pyrotechnics 
Introducing "The Godfather" - A Pyrotechnic Legend!


Step into the world of awe-inspiring fireworks with "The Godfather" - a monumental compound firework that stands as a true force of nature. This colossal creation delivers an unparalleled display of power, scale, and sheer magnificence, leaving spectators utterly awestruck.

"The Godfather" seamlessly combines four maximum-weight, maximum-power display fireworks into one, unleashing a breathtaking performance lasting just over a minute and a half. With an astonishing variety of effects and a meticulously designed firing pattern featuring straight, 'Z,' and 'W' firing comets streaking across the heavens, this colossal compound cake paints the sky with pure brilliance.

Weighing in at a jaw-dropping 20kg, loaded with an astounding 2886 grams of pyro powder, and boasting an impressive 164 shots rated at 1.3G in category F3, "The Godfather" is the ultimate centerpiece for any grand-scale event. Measuring a colossal 97x34x24cm, this commanding firework is designed to leave an indelible mark on all who witness its majesty.

Be forewarned, "The Godfather" is not for the faint of heart - it's a fireworks experience that demands attention and rewards those who dare to embrace its awe-inspiring power. If your display has the space and budget for this titan of the fireworks world, it comes with our highest recommendation.

Prepare to be captivated and enthralled by "The Godfather." This unforgettable spectacle will elevate your event to legendary status, leaving you and your audience utterly speechless, filled with wonder and admiration. Don't miss the chance to make your event truly unforgettable with "The Godfather"!